Fred Anderson purchased his first ventriloquial figure when he was thirteen years of age. It was a Charlie McCarthy doll, complete with a tuxedo, top hat and monocle.

Not being satisfied with the non-movable head, and the string coming out of the back of the neck, Fred soon dismantled the doll and rebuilt it with a headstick which at the very least, allowed movement of the head. During the next two years while entertaining mainly at children's venues, he practiced lip movement, manipulation and voice control.

And in 1955 while preparing to entertain at his annual high school concert in Weston, ON. Canada, two important things happened in Fred's ventriloquial life. I & M. Ottenheimer published a book by Paul Winchell, titled Ventriloquism for Fun and Profit, and his parents, Bill and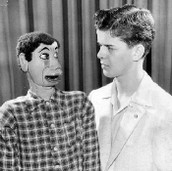 Mattie Anderson sought out, and located a figure maker in Toronto, ON. by the name of Len James. Len had moved to Toronto from England, and was a ventriloquist; a magician; and a master bass wood figure carver. Fred and his dad visited Len at his home in Toronto, and purchased a figure from him. This figure was to become known as Johnny McFlannell.

Johnny was a full size professional Vent figure with a movable mouth and eyes. But he only came with a head. No body. So to enable Fred to entertain at the annual high school concert which was only a matter of days away, Len loaned Fred a body from one of his own figures. A few weeks later Fred's dad made a new body, and a custom built plywood suitcase for Johnny. The addition of a second Len James figure a couple of years later rounded out Fred's ventriloquial family.

The Len James figures have been retired for many years, and were sold a few years ago to a collector in the USA.



Early in 1992, Fred purchased a new figure from Maher Studios of Littleton, CO. Archie, as Fred called him was his main figure for over 25 years, and was made by that outstanding figure maker from California, Craig Lovik. Archie was quite well animated, and has a moving mouth, full left to right moving eyes, winkers, blinkers, raising eyebrows, wiggling ears and a handshaker.

Being of Scottish Ancestry, Fred had the character for a unique figure in the back of his mind, but it wasn't until he attended the Ventriloquists' ConVENTion in 1994 at Fort Mitchell, KY, that it started to become a reality.

Fred discussed his idea with Mary Ann Taylor, the owner of MAT Puppets from Salem,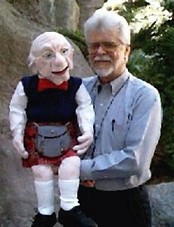 VA, and working together they created Uncle Sandy. A feisty Scot complete with kilt and sporran. He would be known as Uncle Sandy Stewart.

Fred and Uncle Sandy were part of the International Show at the annual International Ventriloquist Association ConVENTion, which was held at the Imperial Palace Hotel in Las Vegas, NV, in 1997. The International Show included ventriloquists from Canada, Denmark, England, Germany, and Japan, and was M.C'd. by Ventriloquist, Buddy Big Mountain.

The character inventory of the modern ventriloquist can not be considered to be complete unless it includes products from Axtell Expressions Inc. Steve Axtell, can only be described as being a genius in his field. A master puppeteer and ventriloquist, producer of many children's videos and TV shows, and the creator of a cast of ventriloquial characters too good to be true. In each of his performances, Fred still uses the Axtell Magic Drawing Board, which is a favourite of all ages.

Although Fred and many of his characters have now retired as Corporate and Convention entertainers, Fred with both a new Archie and Uncle Sandy continue to bring music, laughter and enjoyment to Retirement Residences and Seniors' Centres, in Southern Saskatchewan.